In today's tutorial, learn how to make your own homemade decorative pinwheel Christmas tree ornament with no sewing machine required! Paper backed fusible web and hot glue makes this holiday decoration project go together super-fast. If you're looking for unique handmade Christmas ornament or summertime sewing or crafting project idea, this fabric pinwheel ornament is quick and easy one. With pinked raw edges it's a great simple holiday activity for beginners, too.
For this project you will need:
Disclosure:
Deb's Days is a participant in affiliate advertising programs designed to provide a means for me to earn fees by linking to affiliated sites. This means that, at no additional cost to you, I will earn a small commission if you click through and make a purchase. Your purchase helps support my work in bringing you new sewing and crafting content.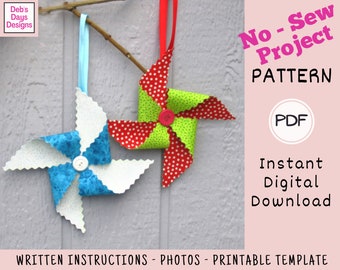 Looking for more holiday sewing projects?
Check out some of other tutorials!
Otherwise, join us as we put together these quick and easy no sew pinwheel ornaments!