In today's tutorial we'll learn how to make our own handmade fabric snowflake. These large 14" x 14" cloth snowflakes require no sewing skills at all! They are a fun way to decorate your walls and windows for the Christmas holiday, or leave them up in your home all winter long. Made with contrasting fabrics, paper backed fusible web, hot glue, and ribbon for hanging you will be able to show off your crafting style without even owning a sewing machine!
For this project you will need:
Two contrasting fabrics
Ribbon for hanging
Disclosure: Deb's Days is a participant in affiliate advertising programs designed to provide a means for me to earn fees by linking to affiliated sites. This means that, at no additional cost to you, I will earn a small commission if you click through and make a purchase. Your purchase helps support my work in bringing you new sewing and crafting content.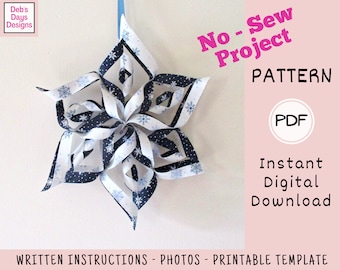 Looking for more hanging Christmas decorations?
Check out some other projects we've made:
Otherwise, join us as we make this winter no sew holiday craft!